Cultivating a Strong Social Responsibility Culture
Shook Lin & Bok's founding partner, Yong Shook Lin was known for his philanthropy and contributions to the local community. "He was a man who if he had wished might have led a life of ease and leisure but instead of that he chose a life of hard work and unrelenting toil, a great deal of it in the service of the people of this country… He was a man of firm principles, when he decided that a particular course was right and proper, he followed that course with unrelenting determination and he met criticism fairly and boldly." – Malayan Law Journal Vol 21 1955.
This legacy and tradition is ingrained and reflected in the firm's strong corporate responsibility culture. Our lawyers to this day continue to build upon his example by initiating and supporting a wide range of community projects and charitable causes that can help improve society, develop its laws, provide a voice to the disadvantaged. The firm combines service, with conscience.
Malaysia's aboriginal people's land right
Case: Khalip bin Bachik & Ors vs. Pengarah Tanah dan Galian, Johor & Ors.
The High Court recently allowed an appeal brought by members of the Orang Selat Orang Asli community in Kuala Masai, Johor in respect of the damages payable for their claims of trespass and willful destruction of a Chapel on their land against the Johor Bahru Municipal Council and the Director of Lands and Mines, Johor. The High Court increased the award of damages to RM30,000.00 to be paid to the members of the Orang Selat community. The basis on which the award of damages was increased was that "the destruction involved a place of worship and in a multiracial and multi religious society extreme care should be given as regards to this". The Director of Lands and Mines, Johor has since withdrawn its appeal against the High Court's decision.
Mr Gregory Das acted as counsel for the members of the Orang Selat community.
SLB collaborates with Kechara Soup Kitchen to feed the street people of Kuala Lumpur – 8th June, 2013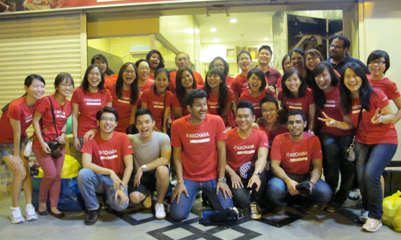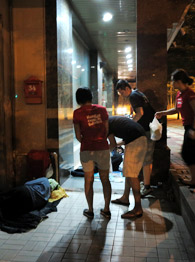 X'mas Party for Children's Home – 14 December 2011
We were back once again in December 2011 at Praise Emmanuel Children's Home (PECH), Petaling Jaya for a Christmas party organized by the firm, following a well received party in 2009. The festivities began with a buffet dinner. The children donned in red Santa hats welcomed a group of about 30 lawyers from the firm along with family and friends. The Angry Bird cupcakes were a hit with the children Dinner was followed by a round of games. The highlight of the evening was Santa Claus, played by our own Jason Gopal, who played his role to the hilt, ringing his bell vigorously, filling the air with "Ho Ho Hos" and keeping all in stitches with his remarks and antics. The children loved him and he received (or solicited) many hugs and rubs on his tummy as he distributed the presents (school bags and Angry Birds stationery). In appreciation, the children returned the efforts with a dance performance tot he Wondergirls' hit "Nobody nobody like you". PECH has committed itself to taking into their care abandoned, abused, homeless and orphaned children and helping them overcome their troubled past to achieve meaningful and productive lives.